As the dark blanket of night begins to lift, you're whisked away from your Marrakech riad while the city still slumbers. Arriving at the launch site, the anticipation builds as your pilot and crew begin unfurling the giant rainbow-colored balloon and stoking the burners. The inflating fabric starts to take shape against the fading stars. You climb into the basket with fellow flyers, ready for takeoff on this magical Marrakech hot air balloon ride.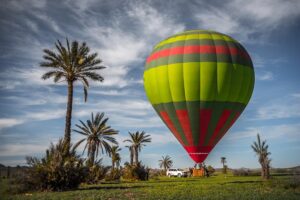 With a blast of the burners, your balloon begins its graceful ascent over the city, providing a bird's eye perspective across the awakening landscape. The amber hues of dawn cast a glow over the hundreds of mosques, palaces, and gardens spread below. From this vantage point, the orderly texture of the city comes into focus, intersected by the winding lanes of the ancient medina.
Your pilot skillfully maneuvers the balloon on air currents gliding over palm groves and the snow-capped Atlas Mountains rising in the distance. The immense desert plains sprawl as far as you can see. Observation balloons have floated over this valley for centuries, but few sights compare to admiring Marrakech from above on this serene sunrise flight.
The strong rays of the morning sun wash over your balloon, reflected in the brilliant colors adorning the fabric. Below you spy local Berbers beginning their morning routines amid clay homes and patchwork fields. Children wave excitedly as your balloon passes overhead. The bird's eye view provides a new appreciation for the landscapes and lives that make this region so rich.
Gliding peacefully over scenic valleys, it becomes clear why Marrakech hot air ballooning is such a sought-after activity. While meandering along flight paths chosen by the wind, you may spot grazing camels or a pointy minaret poking through palm fronds. Safely touching back down on terra firma, you're left with new perspective, a broadened worldview, and memories that will last a lifetime. This sunrise balloon adventure promises to be a highlight of your Marrakech trip.