Marrakech, commonly referred to as the Red City, has gained immense popularity as one of the most renowned cities in North Africa and a significant tourist destination. Its allure lies in its rich history, which is beautifully showcased through its historical monuments. Marrakech, meaning the Land of God in the Amazigh language, was founded in 1062 by Yusuf Ibn Tashfin, the ruler of the Almoravid Empire. This imperial city boasts a collection of magnificent historical monuments that offer captivating insights into Moroccan urban artistry. If you come to Morocco, you can go for a Marrakech tour with a tourist agency, so you can visit the top historical monuments that provide a glimpse into Marrakech's captivating past:
Bahia Palace: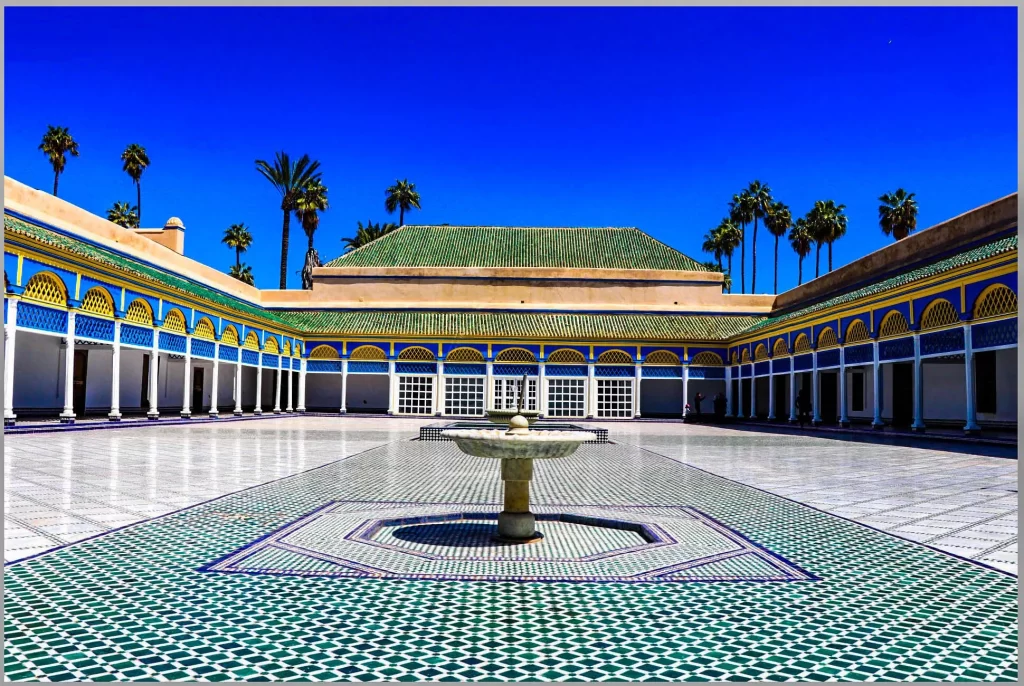 Situated in the Al-Mallah district, Bahia Palace is one of the famous monuments in Morocco, it was established in the 1860s by Si Musa, the vizier of Sultan Hasan I. Covering an expansive area of 8000 square meters, this historical gem offers visitors access to a limited part of the palace. Originally built as a lavish Andalusian-style courtyard mansion (Riad), Bahia Palace has undergone subsequent enhancements, transforming it into the mesmerizing attraction it is today. Adorned with Andalusian-Moorish gardens, fountains, room galleries, a mosque, Islamic gardens, and patios, this palace explains a lot about Marrakech history and it stands as a testament to the cherished cultural heritage of Morocco.
Opening Hours: Every day from 9 a.m. to 4:45 p.m.
Entry Price: 70 MAD
Badii Palace: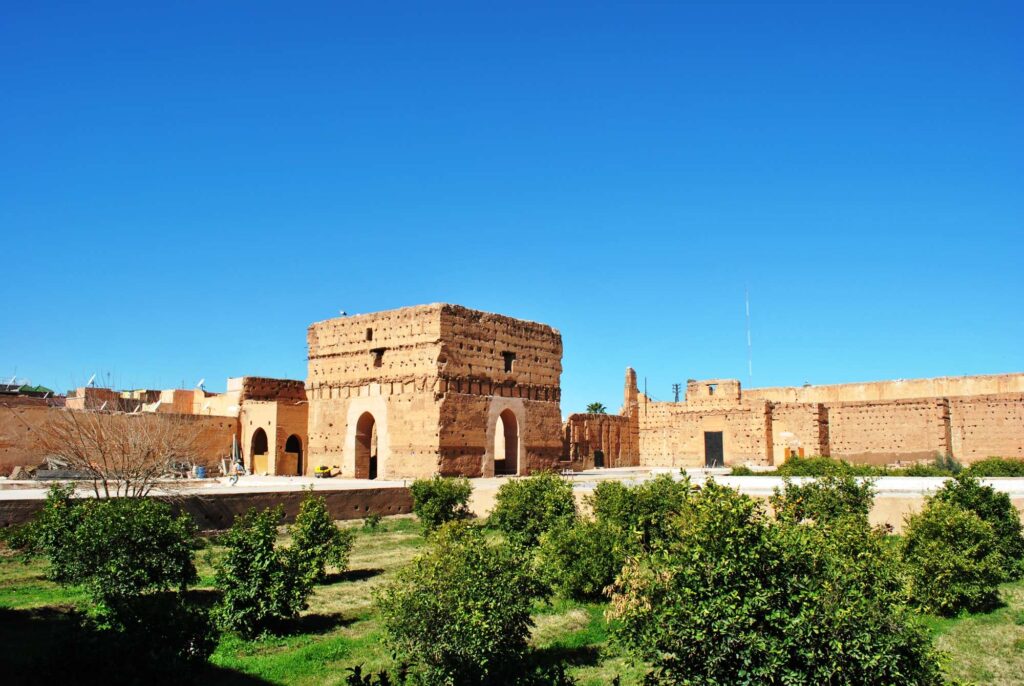 Not far from Bahia Palace, the remnants of Badii Palace stand as a lasting tribute to the triumph of Ahmad El-Mansur Addahabi, Sultan of the Saadian dynasty, in the battle of The Three Kings. Constructed between 1578 and 1594 in the northeast corner of the Casbah, Badii Palace showcases the grandeur it once possessed before its decay during the reign of Sultan Moulay Ismail. The architectural complex features a spacious courtyard flanked by two identical pavilions, small gardens, and additional structures comprising open galleries. Considered a gem of Islamic art, Badii Palace often hosts cultural events, including the renowned "Marrakech du Rire" festival.
Opening Hours: Every day from 9 a.m. to 5 p.m.
Entry Price: 70 MAD
Koutoubia Mosque: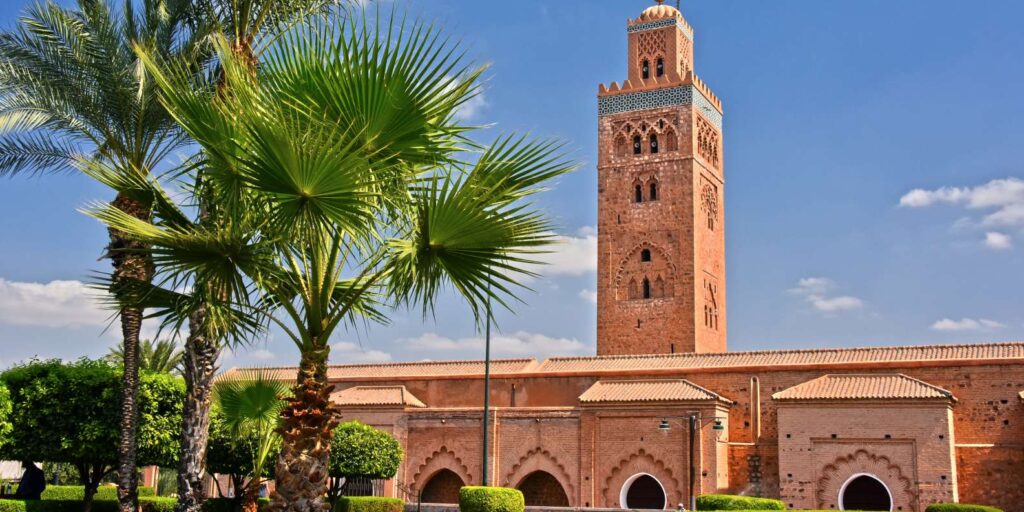 famous Marrakech history monument, Located southwest of the medina near Jamaa Lafna square, Koutoubia Mosque stands as a prominent religious edifice, dominating Marrakech's skyline with its impressive height of 77 meters. Dating back to the Almoravid dynasty in 1120 and completed during the reign of Berber Almohad Caliph Yaqub al-Mansour (1184-1199), this mosque showcases remarkable craftsmanship with its brick, sandstone, and ceramic tile construction. The mosque comprises a prayer hall with 17 spacious chambers supported by sturdy pillars, a beautiful tribune, the mosque's central nave, a minaret adorned with arrows and orbs, and a sprawling square with surrounding gardens. While entry to the mosque is exclusive to Muslims for prayer, visitors can still admire its grandeur from the outside, especially during captivating moments such as sunset, sunrise, and delicately lit nights.
Menara Gardens: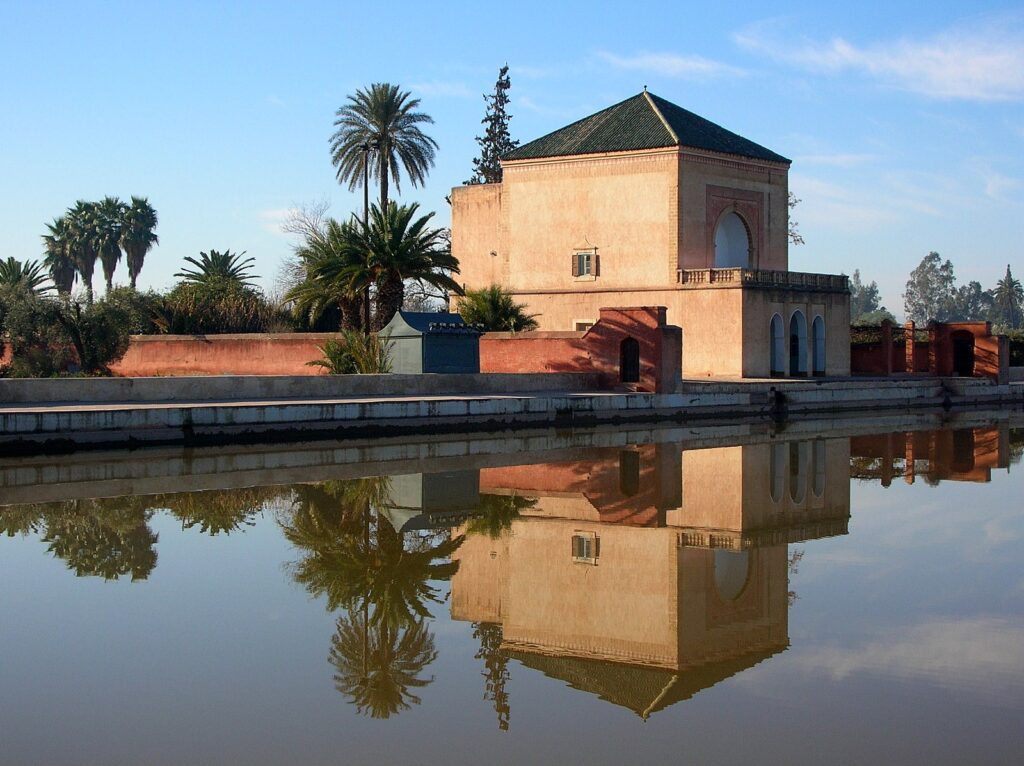 Situated in the Menara district, in close proximity to Jamaa Lafna Square, Menara Gardens is an expansive botanical garden with roots dating back to the 12th century during the Almohad dynasty. Originally serving as a training ground for soldiers at the behest of King Abdelmoumen Almohad, this historic monument offers a vast green space adorned with olive trees, providing an idyllic setting for picnics and leisurely walks. The highlight of Menara Gardens is its pavilion, featuring a distinctive green pyramid-shaped dome, overlooking an artificial water basin. Both locals and tourists flock to Menara Gardens, considering it a must-visit destination.
Opening Hours: 08:00 a.m. to 05:00 p.m. (Note: Sundays can be particularly busy)
Entry Price: Free
Marrakech history attracts a lot of visitors to the city, and if you are interested there are professional tourist agencies that offer a Marrakech tour where you can discover all the famous monuments in Morocco, and marvel at the architectural marvels that have withstood the test of time. From the opulence of Bahia Palace and the remnants of Badii Palace to the grandeur of Koutoubia Mosque and the tranquility of Menara Gardens, each monument offers a unique glimpse into Marrakech's cultural tapestry. Immerse yourself in the allure of these historical treasures and witness firsthand the rich heritage that defines this remarkable city.