Marrakech, known as the "Red City," is a vibrant and culturally rich destination that offers a wide range of activities and attractions for visitors. Whether you're interested in exploring historical sites, immersing yourself in the bustling souks, or indulging in delicious Moroccan cuisine, Marrakech has something to offer for everyone. In this article, we will highlight some of the top things to do in Marrakech to ensure you have an unforgettable experience in this enchanting city.
Marrakech offers a wealth of experiences that will leave you with lasting memories. From exploring the historic Medina to indulging in delicious cuisine and immersing yourself in the vibrant souks, there is no shortage of things to do in this captivating city. Plan your visit to Marrakech and get ready to immerse yourself in its rich culture, history, and enchanting atmosphere.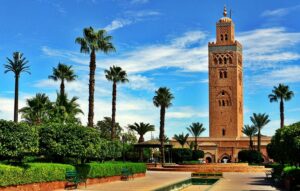 Explore the Medina:
The heart of Marrakech is its historic Medina, a UNESCO World Heritage site. Get lost in the labyrinthine streets, known as derbs, and discover hidden gems like the Bahia Palace and the intricately designed Ben Youssef Madrasa. Don't miss the iconic Koutoubia Mosque, whose minaret dominates the city's skyline.
Visit Jardin Majorelle: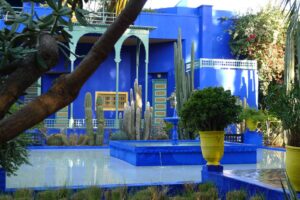 Escape the hustle and bustle of the city by wandering through the serene Majorelle Garden. This enchanting garden was designed by French painter Jacques Majorelle and later restored by fashion designer Yves Saint Laurent. Admire the vibrant blue buildings, lush vegetation, and exotic plant species from around the world.
Experience the Souks: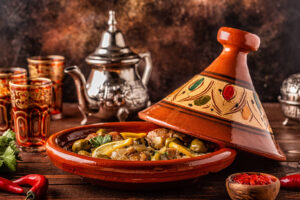 Immerse yourself in the vibrant atmosphere of Marrakech's souks, where you can find everything from spices and textiles to traditional handicrafts. Haggle with local vendors for unique souvenirs such as leather goods, ceramics, and intricate Moroccan rugs. The bustling markets are a feast for the senses and offer a glimpse into the city's rich cultural heritage.
Indulge in Moroccan Cuisine:
No visit to Marrakech is complete without savoring the delicious flavors of Moroccan cuisine. Enjoy a traditional tagine, a slow-cooked stew of tender meat and aromatic spices, or try the famous couscous dish. Don't forget to sample Moroccan mint tea and indulge in the sweet delights of pastries like baklawa and msemen.
Visit the Majestic Palaces:
Marrakech is home to several stunning palaces that showcase the city's architectural marvels. Explore the intricately designed Bahia Palace with its beautiful gardens and ornate tilework. Discover the opulent El Badi Palace, once a lavish royal residence, and be captivated by its grandeur and historical significance.
Experience a Hammam:
Relax and rejuvenate with a traditional Moroccan hammam experience. These steam baths offer a unique way to unwind and cleanse both body and mind. Enjoy a traditional scrub and massage using natural ingredients like argan oil and black soap, leaving you feeling refreshed and revitalized.